By Kids Electronic Toy Manufacturer Cheertone |
17
October 2023 |
0
Comments
BSCI Certified Kids Smart Watch Manufacturer in China | To provide buyers with a reliable choice
Recently, we are proud to announce that we have successfully obtained the BSCI (Business Social Compliance Initiative) qualification certification through the audit conducted by BV (Bureau Veritas), an international inspection agency. With the BSCI certification, we are able to further expand into the European and American markets, bringing more creative and high-quality kids electronic products to reputable buyers and consumers. At the same time, it also makes us pay more attention to the rights and benefits of employees. People-oriented and altruistic spirit are the core values of our company.
Through this article, I will introduce to you the importance of BSCI certification for manufacturers, and why buyers pay attention to whether a manufacturer has BSCI certification?
The outline of this article is as follows, so that you can quickly understand the main points of this article:
1. What is BSCI certification? What does BSCI assess?
2. Why do buyers attach great importance to whether suppliers have BSCI certification?
3. As a manufacturer, what are the benefits of applying for BSCI certification?
4. How does the buyer choose a high-quality manufacturer?
What is BSCI certification? Which aspect of the manufacturer does BSCI certification need to evaluate?
The full name of BSCI certification is the Business Social Compliance Initiative (BSCI) certification, which is launched by the European Retailer Association (FTA) to promote corporate social responsibility in the global supply chain, protect labor rights and improve work Conditional certification system.
The scope of application of BSCI certification, BSCI certification is recognized by many European brands and retailers, such as lidl, Aldi, coop, ESPRIT, Metro Group, etc.
BSCI certification provides standardized management for all companies in all countries. Open to retailers, importers and manufacturers, applicable to all consumer goods manufacturing plants, providing database coordination, information sharing and optimization solutions.
As a manufacturer, if you want to apply for BSCI certification, you first need to meet the following two basic conditions:
1.It must be a formal production enterprise, and the business license must have the production qualification of the corresponding product, and the business license must be more than three months old. If you are a trading company, you cannot apply for BSCI certification. Cheertone is fully eligible to apply for this. We are an enterprise integrating industry and trade, providing customers with one-stop services from R&D, design to production. We have 17 years of children's electronic toy manufacturer experience and 15 years of OEM, ODM experience.
Image caption: Cheertone's BSCI certification report and other certifications
2.If the demand for BSCI certification is proposed by the customer, then the customer must be one of the members of BSCI. Customers need to register the factory on BSCI's official website system before applying for BSCI certification. If your client is not a member of BSCI, then you may need to find a third-party audit agency to help you complete the registration and application operations.
As a manufacturer, you must clearly understand whether the customer has a designated audit agency. At present, internationally recognized authoritative certification bodies include ABS, Intertek, SGS, BV, etc. If the customer has specific requirements, a designated auditing agency must be selected for registration auditing. This is a very important point, because it is related to whether your BSCI certification really meets the needs of customers.
As you can see from the above report picture, BSCI certification is evaluated by as many as 13 dimensions, and finally a comprehensive rating is given. The scoring grades are divided into A, B, C, D, and E. Generally speaking, enterprises only need to achieve the evaluation of C and above to pass. The contents of the assessment mainly include the following:
1.Social management systems
2. Worker involvement and protection
3.The rights of freedom of association and collective bargaining
4.No discrimination
5.Fair remuneration
6. Decent working hours suitable working hours
7. Occupational health and safety
8.No child labor
9. Special protection for young workers
10.No precarious employment no unstable job
11.No bonded labor
12.Protection of the environment
13. Ethical business behavior
In this BSCI audit, 8 items have reached the A-level standard, and 2 have reached the B-level standard. The number of good and excellent standards accounted for 76% of the total, and finally successfully passed the BSCI certification.
What are the benefits for buyers to cooperate with BSCI-certified manufacturers? Tell you 3 advantages:
1. To meet the needs of consumers.
At present, people's consumption concept is not as simple as before, choosing cheap and practical products. The vast majority of consumers are more inclined to choose products with certification because they will be more reliable. If you are an individual buyer, when you search for children's smart watches on Amazon's online sales platform, would you prefer to choose a product with various certifications or a product without any certification? The answer is definitely to choose the former.
Therefore, as a buyer, choosing to cooperate with BSCI-certified manufacturers can not only ensure that the products produced are in line with international standards, but also eliminate consumers' concerns when purchasing products, and help buyers stand out in the market and occupy unique market share.
2. Reduce the risk of the supply chain.
As a buyer, you will attach great importance to the compliance of product production and delivery of goods. If you choose a manufacturer without any factory certification, they may think of various ways or promise you in the early stage to urge you to make an order with them. After the order is completed, if there are problems related to the quality of the product and the problem that the goods cannot be delivered on time during the production process, they will try various methods to avoid it, which will bring huge losses to the buyer.
If you choose a manufacturer with multiple factory certifications and product certifications, then you don't need to worry about product quality and delivery. Cheertone, as a source manufacturer that has been in the field of children's smart watches for 17 years, not only has BSCI, ISO9001, ICTI, Sedex factory certification, but also has CE, RoHs, EN71, ASTM and other product certifications. In addition, we also have a professional R&D design team and standardized production process, support OEM, ODM projects, and provide you with high-quality one-stop service.
When we produce, we will strictly control the quality of the products, and manage the production process according to the SOP standard. From raw material inspection to final product output, we will conduct 100% testing on the products. In order to ensure the high quality and production efficiency of products, we also use a variety of automated equipment for production.
For example, automatic screw machines, automatic packaging machines, etc. involved in the production process. For product testing, we are also equipped with a professional aging test room, smart watch vacuum test, waterproof test, drop test, button test and other professional instruments.
3. Guarantee the reputation and sustainable development of the brand.
Cooperating with BSCI-certified high-quality manufacturers can be a better and faster endorsement of brand trust.
The buyer's brand reputation is not only affected by the manufacturer's reputation, but also has a close relationship with the manufacturer's suppliers. Therefore, before cooperating with a manufacturer, it is also necessary to evaluate whether it has a complete and stable supplier.


Cheertone has been operating on online platforms such as Alibaba International Station and AliExpress for 17 years. Our product material suppliers are all excellent and powerful old-fashioned suppliers in China. Our product materials not only use environmentally friendly materials, which can meet the sustainable development of the environment, but also because our suppliers have the advantage of localization, so we can also get the most favorable price in terms of price.


As an experienced manufacturer of children's electronic toys, we have received feedback and praise from many customers. We also have many customers selling our products on Amazon and Rakuten, etc., and all of them have very good rankings.


When a customer encounters difficulties in production, we will quickly get in touch with the customer and discuss how to solve the problem. Our service tenet is that the interests of customers come first, advance and retreat together with customers, and achieve mutual benefit and win-win results. Therefore, choosing to cooperate with high-quality suppliers can not only help buyers establish a good corporate image, but also consolidate the sustainable development of buyers and suppliers.
As a manufacturer, why should you apply for BSCI certification?
1. Improve brand reputation and expand market competitiveness
Suppliers applying for BSCI certification will help to improve their brand reputation, and it is also an entry ticket to enter the market of some countries. BSCI certification is mainly applicable to retailers in EU countries such as Germany, Switzerland, the Netherlands, and the United States. A supplier with BSCI certification not only means that the company has international credibility, but also avoids repeated factory inspections by customers and improves The efficiency of communication between the two parties.


In addition to BSCI factory certification, customers in different countries will have different certification requirements for the products produced by the factory. If the product is exported to Japan, then you must have PSE certification, if it is exported to the EU, then you must have RoHs certification, etc. Cheertone has also been applying for certification in more countries, looking forward to win-win cooperation with high-quality buyers from all over the world, and selling our kids electronic products to all over the world.


2. Improve employee benefits and stabilize the production supply chain
As mentioned above, BSCI certification mainly focuses on the social responsibility of the enterprise, and the social responsibility of the enterprise is to attach importance to the welfare of employees and maintain the sustainable development of the ecological environment.


Whether it is the front-end R&D, design and business teams, or the employees on the production line, they are all important parts of enterprise development. Only when the ideas of the employees match the ideas of the enterprise can the employees be stable and the capacity of the production line be stable. In this regard, we not only provide employees with exclusive benefits, but also create many leisure and entertainment measures for employees, and regularly hold tourism and other activities.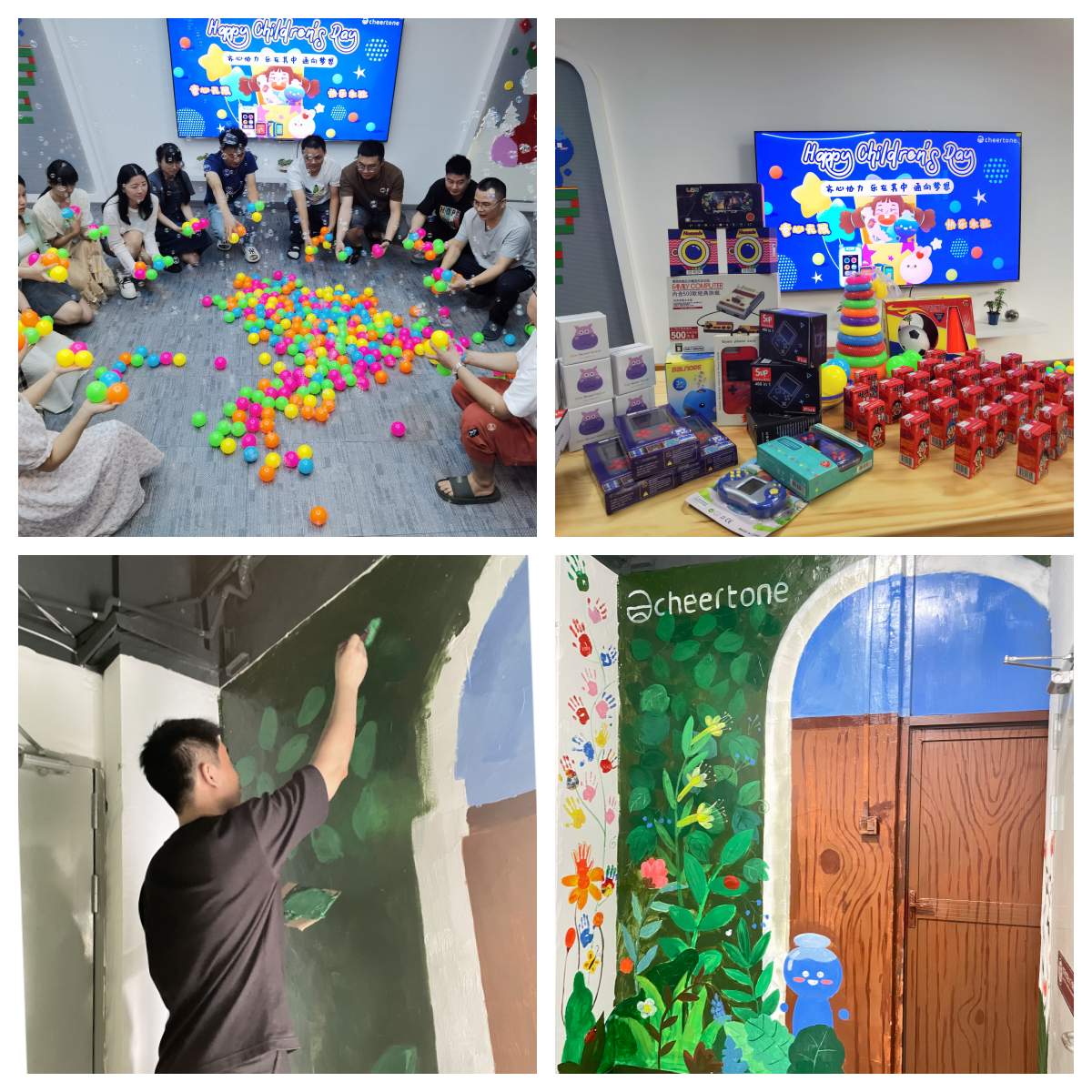 3. Promote the sustainable development of enterprises
Whether customers require suppliers to apply for BSCI certification, or suppliers take the initiative to apply for BSCI certification, it can help enterprises to effectively improve production systems and facilities, thereby improving the production capacity and production safety of enterprises.


This time, Cheertone took the initiative to apply for BSCI certification. We set out with the goal of pursuing high-quality products and standardized production processes. It is not an easy task to provide high-quality products, and we have cooperated with many famous brands such as Toysrus, Lidl, Walmart, Aldi, Disney, etc. to ensure this.
We have also undertaken many
OEM, ODM
orders, such as
Auchan Custom mini retro arcade CT-882B
and we are now maintaining close contact with these high-quality customers for mutual benefit and win-win results, constantly expanding market competitiveness, and
achieving a good goal of sustainable development. We also expect to cooperate with more high-quality customers.
So as a buyer, how to choose a high-quality manufacturer?
A high-quality manufacturer must have a certain factory scale, employee team size, factory certification and product certification. Next, I will list 3 factors to give you a simple understanding of how to judge whether a manufacturer is of high quality and meets your procurement needs.
1. Factory type


Microfactory: The size of the factory varies from 20 to 30 people. The production capacity is relatively weak, but flexibility and supervision are the advantages of this type of factory.
Medium-sized factory: The number of people in the factory varies from 50 to 200 people. The scale is relatively large, and it has its own products in production.
Large factory: The number of people in factories varies from 200 to 500. Generally, there are 10 production lines, and each production line can accommodate 40 people. The length of the production line is about 15-25 meters.
From the size of the factory and the size of the employees, you can probably judge the strength of this manufacturer. In addition to the scale of the production line, if it is a manufacturer that supports OEM and ODM services, it also needs to evaluate whether its R&D and design teams are professional.
2. Factory certification
A high-quality manufacturer must have authoritative factory certification. In addition to factory certifications such as BSCI and ISO9001, different countries have different certification requirements for factories, and there are also certifications such as SGS and ICTI. Buyers need to judge whether the selected manufacturer meets their needs according to the actual situation, and then judge whether it is high-quality from other dimensions.
3. Product certification
Different industries and different countries have different certification requirements for products. For example, our children's electronic products are mainly exported to Europe and the United States, so our products have applied for CE, EN71, ROHS and other certifications. If you need to sell your products in Germany, then you may need to look for manufacturers with product certifications such as VDE, GS, etc.
To judge whether a manufacturer is high-quality, it is definitely not enough to rely on these three aspects alone. It is also necessary to evaluate whether the manufacturer has strict production quality control processes, after-sales service, technical support services, etc. If you want to know more about how to choose a quality children's electronic toy manufacturer, you can check out this article-How to Choose a Quality Electronic Toy Manufacturer
Conclusion:
To sum up, this article mainly explains the importance of factory certification for both from the perspective of buyers and manufacturers. Today's market competition is very fierce. While buyers are choosing high-quality manufacturers, manufacturers are also choosing high-quality buyers. This will not only save time and money costs, but also promote the sustainable development of both parties and benefit each other. win-win. I hope this article can help you learn more about the manufacturer's industry information.
Leave a Reply
Your email address will not be published.Required fields are marked. *