By Kids Electronic Toy Manufacturer Cheertone |
10
October 2023 |
0
Comments
6 Best Kids Smart Watch in 2023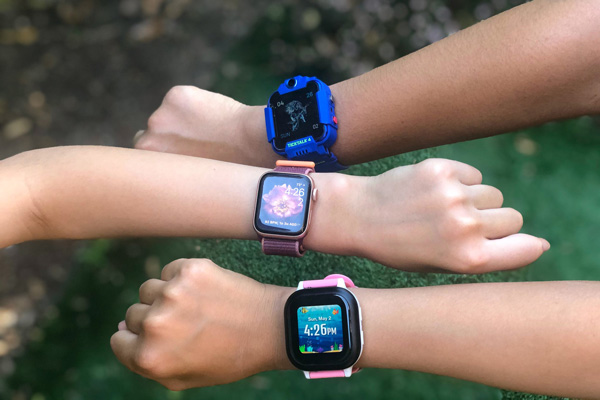 A variety of kids smart watches - Pic from google
In the rapidly evolving field of technology, smartwatches have become essential tools for both adults and children. In 2023, the market for children's smartwatches is set to expand, offering a range of options that combine entertainment, education, safety, and health monitoring. When parents are looking for the best for their children, choosing the right smartwatch has become a critically important decision.
In this article, we will delve into the realm of innovation and exploration to unveil the top 6 children's smartwatches of 2023. From fitness tracking to interactive games, from communication features to creative expression, these devices are reshaping the way children learn, play, and grow.
This article will help you address two questions:
1.The unique features of the top 6 children's smartwatches in 2023.
2.How to choose the most suitable children's smartwatch for your child?
6 Best Kids Smart Watch in 2023 (In no particular order)
Fitbit Ace 3 Sport Watch For Kids | 5+ Age old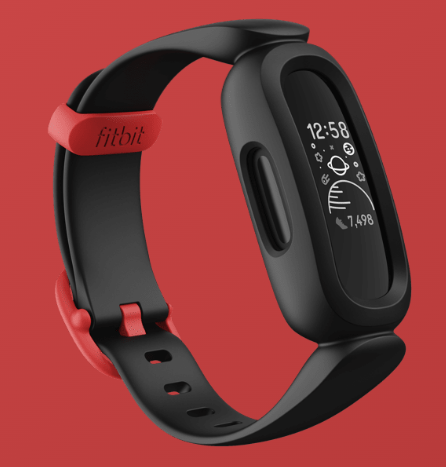 The Fitbit Ace 3 is a kids fitness tracking wristband developed and designed by Fitbit. It stands out in the market for children's fitness tracking wristbands due to its simple design and practical fitness features. As a fitness tracking wristband designed specifically for children, its most important features are the accuracy of exercise data recording and battery life.
The Fitbit Ace 3 features a PMOLED touchscreen and has an IP68 waterproof rating, allowing for a smooth and secure experience during activities such as swimming, showering, or even surfing. According to official Fitbit data, the battery of the Fitbit Ace 3 can last up to 8 days under normal usage. The Fitbit Ace 3 also includes a sleep quality monitoring feature, allowing parents to view their child's sleep quality and other exercise and fitness data through the Fitbit app. Furthermore, parents can set daily exercise goals for their children, encouraging them to complete these goals and earn points as rewards. These points can be used by children to redeem new badges, watch faces, virtual user avatars, and more in the online store.
In addition, the Fitbit Ace 3's wristband is made of silicone, which is crucial for children's health. Unfortunately, the wristband is not removable, so you need to choose your preferred color when ordering.
In summary, the advantages of the Fitbit Ace 3 can be summarized in the following three points:
1.A fitness tracking wristband designed specifically for children with a simple design.
2.Encourages children to develop healthy exercise habits through gamification.
3.Allows parents to set goals and enhances parent-child relationships.
Cheertone Kids Sport Watch CT-S2 | 5-12 Age old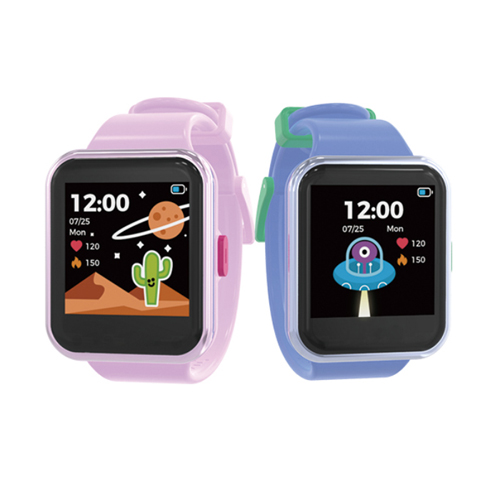 The Kids Sport Watch CT-S2 was developed and designed by Cheertone, who has 17 years of experience as a kids electronic toy manufacturer. It features a 1.44-inch color touchscreen and supports six fitness modes such as basketball, soccer, and swimming. With an IP68 waterproof rating, the CT-S2 allows you to monitor your sleep quality, heart rate, body temperature, and weather conditions in real-time by connecting to the Gubi-fit app. Additionally, you can download more exquisite watch faces and choose from multiple languages.
What sets the CT-S2 apart from the Fitbit Ace 3 is its incorporation of various entertaining features alongside fitness functions. For example, the CT-S2 introduces the exclusive Gubi interactive pet developed by Cheertone. Children can interact with Gubi, producing various expressions and sounds on the watch. It also comes with three educational games. Importantly, children need to achieve a certain number of daily steps to unlock each of these games, encouraging them to embrace physical activity rather than focusing solely on gaming.
Furthermore, the CT-S2 features a removable wristband, allowing you to change it to any style you prefer as long as it's the right size.
In summary, the advantages of the CT-S2 compared to the Fitbit Ace 3 can be summarized as follows:
1.The best multi-functional fitness smartwatch for children aged 5-12.
2.Real-time monitoring of various sports and fitness data.
3.A wider selection of exquisite watch faces and language settings.
4.Longer battery life.
Garmin Bounce Kids Phone Watch | 6-12 Age old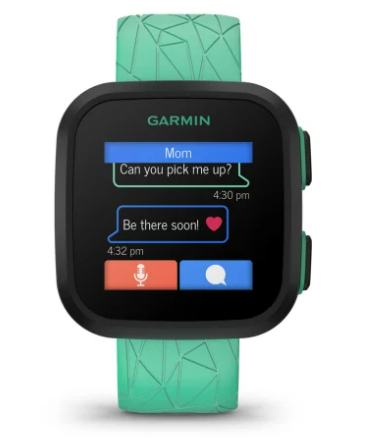 Garmin Bounce is the latest offering from Garmin, a kids smartwatch with calling that boasts LTE connectivity for two-way text and voice messaging between parents and kids. This smartwatch also supports Wi-Fi connections, and with its exceptional geofencing capabilities and user-friendly features, Garmin Bounce has quickly risen to dominate the market. The choice of the name "Bounce" suggests encouraging kids to stay active and away from smartphones, fostering healthy lifestyle habits.
Garmin Bounce comes equipped with several engaging interactive games and facilitates interaction through the Garmin Jr. app. For example, parents can assign specific tasks to their children through the app, and upon successful completion, kids earn virtual coins as rewards. These virtual coins can be redeemed for specific prizes within the Garmin Jr. app. Additionally, if a child's friends also own a Garmin Bounce, they can connect through the app and compete in weekly step challenges, encouraging each other to stay active.
Moreover, the watch is swim-friendly, with support for up to 50 meters of water resistance (5 ATM). To ensure communication capabilities, purchasing this product includes subscribing to an exclusive plan through Garmin's service provider, without the need for additional mobile carrier fees.
In summary, the advantages of Garmin Bounce can be summarized as follows:
1.A secure and durable child-friendly design.
2.Enhanced interaction among family and friends.
3.Outstanding educational features.
TickTalk 4
Kids Phone Watch
| 5-12 Age old
TickTalk 4 is the most advanced kids smartwatch with calling of 2023, featuring dual 4G/LTE connectivity for voice and video calls, in-app messaging, and location tracking. Parents can stay in touch with their kids without the need for a smartphone, as all communication occurs through TickTalk's free app and the child's smartwatch. Upon purchase, consumers receive a free SIM card but will need to pay a one-time $9.99 pay-as-you-go plan, similar to Garmin Bounce's subscription plan. This one-time payment covers all costs, with no hidden fees.
One significant highlight of TickTalk 4 is its dual 5MP cameras, setting it apart from Garmin Bounce. This means your child can not only capture exciting moments with the camera but also engage in video calls with parents. Additionally, TickTalk 4 features built-in iHeartRadio for listening to a vast library of music. In terms of durability, the rugged design of TickTalk 4 makes it more resistant to falls. Regarding GPS accuracy, TickTalk 4 utilizes a triangulation method with 4G and LTE connections, resulting in superior GPS performance.
The only drawback is that TickTalk 4 has an IP67 waterproof rating, making it unsuitable for swimming or diving.
In summary, the advantages of TickTalk 4 can be summarized as follows:
1.Extended dual voice and video calls for enhanced parent-child communication.
2.More stable and accurate GPS tracking with geofencing.
3.A rugged design that withstands drops.
4.Equipped with dual cameras, supporting photography and video recording, along with additional fun features.
VTech Kidizoom Smart Watch DX3 | 4-12 Age old
The VTech Kidizoom DX3 is the latest kids smartwatch introduced by VTech. While it resembles an adult's watch in appearance, it is designed specifically for kids. The DX3 features a 1.44-inch color touchscreen and front and rear switchable dual cameras, allowing children to capture exciting moments in their lives anytime, anywhere. One of DX3's standout features is its AR scanning capability, enabling kids to use the "Monster Catcher" feature to hunt for AR monsters in the real world and play an additional seven games. Moreover, they can play and share preset messages by scanning their friends' DX3 screen codes.
DX3 also offers various practical functions, including a flashlight, 50+ exquisite digital watch faces, time management applications, and parental game controls with time limits. This ensures that parents need not worry about the internet's adverse effects on their children, allowing them to focus on learning and living.
In summary, the advantages of the VTech Kidzoom DX3 can be summarized as follows:
1.Simple yet highly practical features that combine entertainment and daily life.
2.Built-in front and rear dual cameras for convenient photography.
3.Multiple fun games and exquisite watch faces.
4.No internet access, but it can communicate with other DX3 watches.
Cheertone Kids Smart Watch CT-W24 | For 3-12 Years Old

The Cheertone CT-W24 is the latest Kids Smart Watch launched by Cheertone in 2023. The W24 comes equipped with a 1.69-inch IPS color touchscreen and colorful ambient lights, along with a cool and stylish design that is sure to captivate children. In addition to its unique design featuring colorful ambient lights, the W24 boasts a 90-degree rotatable and extendable high-definition camera, an exclusive design patent developed independently by Cheertone. Breaking away from the traditional switchable dual cameras, this single camera allows you to capture every exciting moment in life.
The W24 does not support internet connectivity. Instead, it is designed as a children's smart educational electronic watch. It comes preloaded with 30+ educational games, motion-sensing games, Gubi interactive pets, 80+ learning cards, and 28 behavior reminder features. This enables children to learn while having fun, without parents worrying about them becoming addicted or the risk of their information being exposed. Additionally, the W24 supports five different languages, features a flashlight, pedometer, and other practical functions.
Therefore, the advantages of the Cheertone CT-W24 can be summarized as follows:
1.Unique ambient lights, camera, and exterior design that make it stand out among many children's smartwatches.
2.Built-in practical educational features such as learning cards and behavior reminders, making it an ideal gift for children returning to school.
3.Built-in a variety of educational games and motion-sensing games, serving as the perfect companion for children to pass their time.
After reading the introductions of the six different types of kids smartwatches above, you might still be unsure about how to choose the most suitable one for your child. Let me guide you on how to make that choice. First, let's differentiate them based on their different functions, which include kids sports watches, kids phone watches, and kids educational toy watches.
1.If you are considering purchasing a kids sports watch, you can choose between the Fitbit Ace 3 and the Cheertone Kids Sport Watch CT-S2.
Both of these watches have IP68 waterproof capabilities and come with silicone straps, making them suitable choices for children. However, if you are looking for a watch that not only covers sports activities but also offers more entertainment options, then the CT-S2 might be the better choice. Compared to the Fitbit Ace 3, the CT-S2 features a color touchscreen, longer battery life, three educational games, as well as functions such as heart rate monitoring, temperature monitoring, and real-time weather updates.
If you simply want to get your child a straightforward and user-friendly kids sports watch, then you can confidently choose the Fitbit Ace 3.
2.If you are considering purchasing a kids phone watch, you can choose between the Garmin Bounce and the TickTalk 4.
Both of these watches allow parents and children to communicate over long distances, but they use different methods. Garmin Bounce uses LTE connectivity, eliminating the need to switch mobile carriers; you only need to subscribe to Garmin's LTE communication plan. On the other hand, the TickTalk 4 uses LTE and 4G connectivity and requires the purchase of a $9.99 pay-as-you-go plan, which can be slightly more expensive than Garmin Bounce. However, the GPS positioning and signal on the TickTalk 4 tend to be more precise and stable than on the Garmin Bounce.
In terms of other features, both watches have their standout functionalities. For example, Garmin Bounce places a strong emphasis on parent-child interaction. Parents can assign tasks to their children, and when completed, children earn virtual coins that can be redeemed for rewards within the app. Additionally, Garmin Bounce supports 5 ATM (up to 50 meters) waterproofing, making it a bit more practical.
The TickTalk 4 main highlight is its 5MP dual-camera setup, enabling video calls between parents and children. It also offers access to a vast library of free music through built-in multimedia applications. The TickTalk 4's rugged design makes it more durable, but unfortunately, it only has IP67-rated waterproofing, so it cannot be used for swimming.
So, if you prioritize parent-child interaction, Garmin Bounce is your best choice. If you value stable communication and more entertainment features in the watch, then the TickTalk 4 would be your top pick.
3.If you are considering purchasing a kids educational toy smartwatch, you can choose between the VTech Kidizoom Smart Watch DX3 and the Cheertone Kids Smart Watch CT-W24.
Both of these watches cannot connect to the internet but come with highly practical educational features. They both offer a variety of educational games, with differences in their offerings. DX3 includes interactive games with AR scanning, while W24 comes with a rich collection of motion sensor games. In terms of camera functionality, there are distinctions as well. DX3 features a switchable dual-camera setup, while W24 has a 90-degree rotatable and retractable camera.
Regarding screen size, DX3 is equipped with a 1.44-inch color touchscreen, while W24 features a 1.69-inch color touchscreen. Additionally, W24 offers more innovative designs, such as 4-mode color ambient lights, 80+ learning cards, and more.
So, if you're looking for a straightforward children's educational and toy smartwatch, DX3 is your top choice. If you want a smartwatch with more features that can captivate your child's attention, W24 is the best option.
Conclusion:
In the world of kids smartwatches, innovation and imagination come together to create devices that inspire, educate, and protect. As we usher in 2023, these six outstanding smartwatches take center stage, redefining the meaning of tech-savvy kids in the digital age. Their features are designed to cater to a range of needs and styles, making them more than just gadgets; they are companions on the journey of discovery, learning, and connectivity. Whether it's the pursuit of an active lifestyle, the thrill of exploration, or the joy of creative expression, these top six kids smartwatches are ready to accompany today's young adventurers into a future full of boundless possibilities.
Leave a Reply
Your email address will not be published.Required fields are marked. *